Mali, September 22, 2015 -- A local ostrich, Zzirrk Struthio II, has been charged with multiple ostricides following a grisly chance discovery in the two-toed, long-necked ratite's backyard. Mr. Struthio was taken into custody and is being held at the Municipal Pen on a bond of 100,000 grubs pending trial.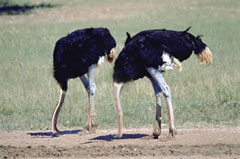 Two of Mr. Struthio's victims
"It was probably the most gruesome thing I've ever stumbled across," Krrbll Trrtt, a young ostrich who lives next door to Mr. Struthio with his parents, said.