Roanoke, Virginia, March 12, 2008 -- A Blue Ridge Mountains Boy Scout troop accidentally discovered Vice President Dick Cheney's "undisclosed location" last week, a press officer with Boy Scouts of America said.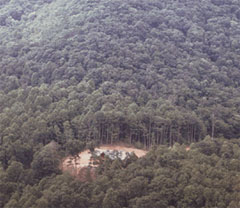 Possible undisclosed location of Dick Cheney's undisclosed location
The troop, consisting of a Scoutmaster and 17 boys from the region who were planning to camp for the night in the heavily wooded area, reportedly found the undisclosed location while hunting for shelter during a sudden hailstorm.
"We were heading to a nice clearing near Brushy Mountain we've used before when the squall hit," Pete Pubert, Scoutmaster for the troop, said. "Motto or no motto, we weren't ready for hailstones the size of jawbreakers, so we quickly scanned the area for a cave, some heavy trees, anything that could provide shelter. That's when one of the boys noticed a big steel door built into the side of the mountain. Right next to a helipad, which you don't usually see in the Blue Ridge."
According to Mr. Pubert, he and the 17 boys in the troop, whose names are being withheld pending parental notification, worked together to pull open the door and hurried inside.
"I don't know what we expected to find, but Dick Cheney shooting nine-ball in his boxer shorts sure as heck wasn't it," Mr. Pubert said.
Mr. Pubert described the vice president's official hideaway as "a really palatial, manly kind of place, with a lot of dead animals on the walls. High vaulted ceilings, tons of brass and oak. I think I counted about 900 quail heads. There was a big TV, lots of fancy-looking electronics stuff, an X-box. Pool table, foosball, two-lane bowling alley. Huge bar with really top-shelf liquor. Some voodoo dolls that looked like democratic senators. Top-of-the-line ICU. A lot of shiny latex stuff toward the back with what looked like maybe weight-lifting equipment, but it could have been something else. It was pretty dark in there."
Mr. Cheney, Mr. Pubert said, was "a little gruff at first, but then he sort of softened up and gave us all the Scout Salute and a quick tour of the place."
"He made me promise not to tell anybody where the undisclosed location is," Mr. Pubert said, "other than to say that it's about a half-hour chopper ride from the Mall. Then he took a shotgun and pushed me back out the door and slammed it shut."
The 17 members of the scout troop, Mr. Pubert said, are "in good health and are supposed to be released pretty soon."
"He said he'd just hold on to the boys until he felt sure I could keep my mouth shut about where the undisclosed location is. Also, there's some interrogation techniques he'd like to try out. I'm sure they'll be fine. He's got a good heart."
By Ion Zwitter, Avant News Editor