Hephzibah, South Carolina, October 30, 2007 -- A Hephzibah, South Carolina pumpkin farmer wins this year's annual "World's Smallest Pumpkin" contest with a record-small 0.23 inch (0.5842 cm) diameter, perfectly formed miniature example of the popular pulpy orange Halloween seasonal fruit.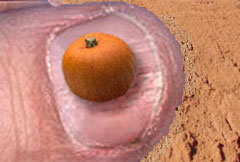 Ozzie Crenshaw's World's Smallest Pumpkin
The farmer, Ozzie Crenshaw, said he was "real excited" to have captured the grand prize at this year's prestigious event.
"I never expected to win anything," a proud Mr. Crenshaw explained. "But when I saw this year's pumpkin crop, I could nearly feel in my gut there was something special there."
Mr. Crenshaw, whose pumpkin farm in the Hephzibah area has been in the family for three generations, at first feared that his farm may have been stricken by a near-total pumpkin blight, with no visible fruit emerging in the fields many weeks after they were expected to first appear. Only when he strolled carefully down the neatly tended furrows a few weeks ago did he discover that he was, in fact, tending a bumper crop, but a bumper crop of amazingly small pumpkins.
"I call them pygmy-pumps," he said. "There warn't one of them bigger than two inches across. Took me about a week to find this one, crawling around on my belly with one of them looking glasses."
Beyond the international fanfare accorded by the World's Smallest Pumpkin Award, which will be presented officially at a gala event in Louisville, Kentucky, Mr. Crenshaw's "pygmy-pump" has awoken some interest in the agricultural scientific community. An interdisciplinary science team of agronomists, soil scientists and geneticists from several major East Coast and Midwestern universities have descended on the area to study the phenomenon at close range.
"Miniature fruit is not a phenomenon that occurs naturally in nature," said Dr. Werner Schaefer of Ohio State University's Agronomy Department. "This is an effect of something, and where there is an effect, there is a cause. And that's what we're here for."
"As luck would have it, we may have found it already," said Dr. Fred Rowley of the University of North Carolina's Chapel Hill campus. "We've discovered that Mr. Crenshaw's field directly abuts a large agribusiness experimental research facility managed by Monsanto. What we now suspect we may be looking at is some form of cross-pollination, a genetic contamination of Mr. Crenshaw's pumpkin crop by spores, airborne or waterborne detritus from the Monsanto fields."
A spokesman for Monsanto, the massive industrial agricultural conglomerate, confirmed that Monsanto was indeed performing some experimental agriculture using genetically modified crops in the area, but insisted there was no possibility for contamination beyond the boundaries of the Monsanto fields.
"We have a fence that is over five feet high and digs nearly two feet down into the ground surrounding the whole facility," said the spokesman. "The only way anything could get out of the field would be if it were to fly out on a light breeze, or get picked up by birds or insects, or through groundwater runoff. So I think we can rule out Monsanto on that score."
The specific forms of genetic modification performed at Monsanto's Hephzibah facility are an industrial secret, but sources who have observed the facility at close range suggest the conglomerate may be working on a variety of "convenience foods".
"I looked through the chain-link fence, and damned if I didn't see what looked like salted dry-roasted peanuts growing there in the fields," said Steve McCaskill, a butternut squash farmer from the Hephzibah area. "They were growing right into little aluminum packages, right there on the ground. Damnedest thing I ever see."
Other observers report having witnessed "pocket-size watermelons, pre-sliced carrots, and three-assed chickens" growing at various areas of the top-secret Monsanto facility.
"I think the three-assed chickens are supposed to lay three eggs at a time, or something," said one witness.
Mr. Crenshaw, while delighted with the $250 cash prize he will receive along with the prestigious World's Smallest Pumpkin award, is somewhat concerned about the remainder of his pumpkin crop.
"I grow pick-your-own, you know, and I think it's going to be a lean year," he said. "I already sent a few tourists out there into the fields with knee-pads and looking glasses, but most of them city folk don't have the patience to hunt for my pygmy-pumps."
By Ion Zwitter, Avant News Editor