Los Angeles, November 14, 2011 -- A previously unknown peasant from the remote hillsides of northern Ecuador, Jorge Rafael Montalvo, has been selected as People's Sexiest Man Alive 2011, a spokesman for the popular human-interest magazine announced today. A stunned and disoriented Mr. Montalvo was revealed to members of the press during a gala celebration in his honor tonight in Los Angeles.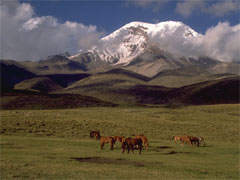 Ecuador
"My God, he really is the sexiest man alive," multiple ceremony attendees gasped as the curtain behind which Mr. Montalvo cowered was dramatically swept back, exposing his blinking, confused, but perfectly proportioned, high-cheekboned face. "He's even sexier than a lot of dead men."
According to the People spokesman, Juliette Proust, the procedure for selecting "Sexiest Man Alive" was "a lot less arbitrary than usual."
"We decided this year to make the honor actually live up to its title," Ms. Proust said. "If we're going to label someone Sexiest Man Alive, we've really got to go investigate all living men. So that's what we did."
Ms. Proust said a team of about 120,000 researchers, known as "the stud-seekers", fanned across the globe in early 2011, photographing and interviewing nearly every of the roughly three billion male inhabitants of planet Earth.
"We weren't just going for looks," Ms. Proust said. "Also charm, charisma, personal magnetism, the works. Finding stud-seekers who could speak some of the rarer tribal languages in places like the Amazon basin and the Nepal hinterlands was a hell of a problem."
By September, every male human being between the ages of 18 and 80 had been documented, with their photo and interview transcripts condensed into short, six-page Sexiest Man Alive candidate profiles. The profiles were then reviewed by a three-member team chosen from People Magazine's editorial board.
"It wasn't as big a chore as it sounds," Yvonne Glummit, a member of the panel, said. "We just took one billion men each and got cracking. I think Mr. Montalvo really jumped out for all of us when we got to the M pile. God knows how he keeps those teeth so bleachy-white up there in the jungle."
Mr. Montalvo, who in addition to the prestigious distinction of Sexiest Man Alive will also be presented with a People Magazine gift pack consisting of a full year's subscription to People Magazine plus two years worth of back issues, said, through an interpreter, he was "anxious to get back to my goats. They will be hungry."
By Ion Zwitter, Avant News Entertainment Editor