Washington, D.C., February 12, 2007 -- Speaker of the House Dennis ("Denny") Hastert announced yesterday that the U.S. House of Representatives has banned all computers, BlackBerries, modern cell phones and other electronic communications devices from its offices and related premises.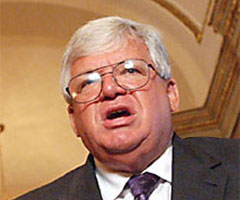 House Speaker Dennis Hastert, co-sponsor of the IM Clean Act
Under the new, tough, bipartisan ban that passed with nearly unanimous approval by both parties, Members of Congress are forbidden access to any device that could potentially be used in the transmission of unsavory emails or instant messages to underage individuals in their employ.
"It's our duty as Members [of Congress] to protect our nation's children," Speaker Hastert said, "in particular the adorable gaggle of nattily dressed, sardonically witty young congressional pages with great haircuts who have been entrusted to Congress in loco pubertis to serve their country and learn the ins and outs, the plumbing, if you will, of this great body politic. And we're not going to let terrorist-coddling Democrats stand in the way of strengthening the security of our pages and our country any longer."
Co-sponsored in the wake of the Rep. Mark Foley (R-FL) "Masturgate" scandal by House Speaker Dennis Hastert (R-IL) and Minority Leader Nancy Pelosi (D-CA) under the direction of the recently resurrected and just as quickly dissolved bipartisan House Ethics Committee, the IM Clean Act forbids any sitting Member of Congress to use any form of electronic communications device throughout the full duration of their term. The IM Clean Act further requires the removal of all such devices from offices, premises, nooks and crannies that are or may be occupied by any Member.
"I think this will show the American people that we handled the Mark Foley homoerotic entrapment tragedy in an aggressive and proactive way," Speaker Hastert said, "despite the strident efforts of the Democrats, former President Clinton and George Soros to paper over their culpability in the scandal. By denying all Members, especially the Democrats, access to these dangerous communications devices, parents of pages will know their children are safe from unwanted advances, whether they be from freakishly gay Members of Congress or patriotic God-embracing untwisted ones like me. And we did it without making a political issue out of the tragedy like the Democrats did."
Speaker Hastert said a goal of the IM Clean Act is to "make Members of Congress get their sexual kicks through more socially acceptable means like strippers and hookers, or even at home with the wife. Anyone know if Jeff Gannon's still working? That Bulldog's got it going on."
Miya H. Long, political reporter with The Congressional Staffer, a Washington, D.C.-based weekly covering Members of Congress and their staffs, said the new, firm measure is likely to save Dennis Hastert's political career, which has been in serious jeopardy since the flame-up of the Mark Foley scandal last September and the discovery of Hastert's attempts to cover it up.
"The IM Clean Act should have a redemptive quality much like the USA Patriot Act did for Bush after Bush fumbled 9/11," Ms. Long said. "Hastert sat on the Foley scandal for at least a year while Foley continued having IM sex with pages, it's been pretty well proven, and that of course cost him a lot of political capital. But the American people are very forgiving and they like to see Members solidly grasp an issue even when it's late. Dennis Hastert has probably pulled himself out of a gigantic pickle with the IM Clean Act, and I think the Act will penetrate well with American voters."
The IM Clean Act was initially inspired, Speaker Hastert said, by defense secretary Donald Rumsfeld's directive in 2004 that digital cameras be forbidden for use by low-ranking members of the U.S. military in Iraq, thus quickly wrapping up the problem of the accumulation of visual evidence of American atrocities in Abu Ghraib and other installations.
"That was sheer brilliance," Speaker Hastert said, "but this brilliance is even sheerer, kind of like that perky little page over there's stockings. Nice little booty on that page."
Pursuant to the new regulations, all congressional communications are now in the form of handwritten notes delivered from place to place by a new staff of congressional couriers, the Instant Messengers.
"The Instant Messenger couriers are a group of about 1,000 young men and women with strong, athletic bodies and powerful legs who have the stamina to handle and promptly deliver the geysers of information flow generated by our Members," Speaker Hastert said. "And they're all over the age of 18, which makes them fair game."
By Ion Zwitter, Avant News Editor