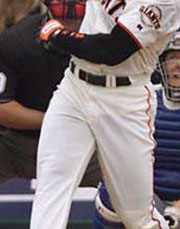 Barry Bonds: According to scientific research, the use of steroids can promote testicle shrinkage, amongst other exciting side effects.
Really!? Here most people were led to believe he was just a very late bloomer.
Apparently the same court documents also revealed that bears actually do shit in the woods.
Good on Bonds' lawyers moving to suppress witness descriptions of Bonds' "physical, behavioral and emotional characteristics" — including acne on his back, testicle shrinkage, head size, hat size, hand size, foot size and sexual behavior. On behalf of all people that have ever been in a public shower and 'snuck a peek,' could one, with absolute certainty, accurately say that a person's hands are a different size over time?
With his size, he should be in the NFL anyway.
Following his incarceration and inability to land a job after, he has a sweet name for a jail bond company: Barry's Bonds.