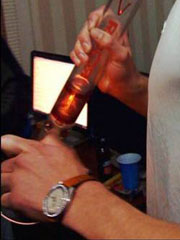 Michael Phelps Hits the Water(bong): Phelps' sponsor Omega makes water-resistant watches (pictured), but the company is water(bong)proof as well.
Him having the munchies now allows the public to understand how Michael Phelps is able to eat 15,000 calories per day. Two things that have rarely been spotted in the wild: a fat pot head or a fat swimmer.
Although Phelps may lose some of his lucrative endorsement deals, a possible High Times magazine sponsorship and a potential Gamecocks scholarship should cover the difference.
Chlorinated bong water will never catch on, but candid cell phone photos will never get old.
A gold medal can buy a lot of dime bags of schwag in these troubled economic times.
Bong hit and thong fit rhyme and the phrase "going for the gold" has a totally different meaning now (read: Jamaican Gold Bud).