San Diego, November 9, 2006 -- Following the resounding defeat of Republican candidates in the 2006 midterm elections, President Bush hailed his party's victory during an epic speech this morning.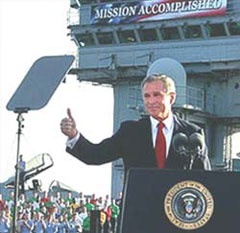 President Bush congratulates GOP candidates on victory following their defeat in the 2006 elections
Speaking before a cheering crowd of US Marines on the deck of the aircraft carrier USS Millard Fillmore, anchored a few feet off the coast of San Diego, the president congratulated his party's political troops for a "catastrophic success".
"Major midterm election operations in America have ended," President Bush said, slightly winded from the dramatic blimp ride that had ferried him to the carrier and speaking squeakily due to lung constriction by the tight flight suit he had adopted for the occasion. "In the Battle of Congress, the Republican party and our allies have prevailed. And now our coalition is engaged in securing and reconstructing this country."
The remarks by President Bush were in honor of Republican congressional candidates whose political party had just been handed its most resounding defeat in over a decade.
Early 2006 election results showed a loss of 29 Republican House of Representatives seats and 6 Senate seats to the Democratic party. Several governorships also passed into Democratic hands, leaving Democrats with gubernatorial, Senate and House majorities for the first time in 12 years, years during which the dominant Republicans raised the US national debt by about $4 trillion.
President Bush's stirring remarks were evocatively backdropped by a huge, colorful "Mission Accomplished" banner Marines on the USS Millard Fillmore had voluntarily constructed themselves in their free time, according to the Ministry of Truth's banner printing office, using only chewing gum and whale parts.
"In this battle, we have fought for the cause of liberty, and for the peace of the world," President Bush said. "Our nation and our coalition are proud of this accomplishment — yet it is you, the members of the United States voting public, who achieved it. Your courage — your willingness to face danger for your country and for each other — made this day possible. Because of you, our nation is more secure. Because of you, the tyrant has fallen, and America is free."
President Bush went on to characterize the Democratic sweep of the House and Senate as "a milestone in the American people's efforts to replace the rule of a tyrant with the rule of law -- it's a major achievement for America's young democracy and its constitutional government."
The President said he had "no particular victory plan for the defeat", adding that America was not in the business of nation-building.
With the Congress now firmly in Democratic hands, pundits expect a return to the practice of congressional oversight, a constitutional duty of Congress that was neglected or ignored completely throughout the years of Republican domination during the Bush administration.
Some Washington insiders also predict a possible spate of congressional investigations into the Bush administration's handling of Iraq, Afghanistan, energy policy and numerous other issues, potentially followed by high-level indictments.
Vice President Dick Cheney, however, remained cautiously optimistic despite the resounding defeat for the GOP, joining Defense Secretary Donald Rumsfeld in blaming the recent losses on the activities of a few democratic "deadenders".
"The level of activity that we see today from a political standpoint, I think, will clearly decline," Vice President Cheney said, speaking from an undisclosed location where he is expected to remain until 2009 or his death, whichever comes first. "I think they're in the last throes, if you will, of the insurgency."
In response to a reporter's question, President Bush said he "hasn't read Bob Woodward's new book yet, but from what I heard it's going to be a real treat."
Meanwhile, White House Press Secretary Tony Snow dismissed the toppling by American troops and tanks of a large copper statue of George W. Bush, located in the White House Rose garden, as a "nothing more than a cynical media stunt".
By Ion Zwitter, Avant News Editor