Isthmus of Panama, August 8, 2014 -- The ambitious, eight-year project to widen the Panama Canal is now complete, with the inaugural transit of the first Airbus A380 Superjumbo scheduled to take place on August 15.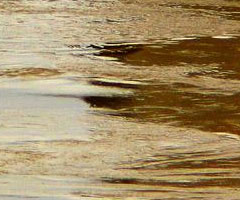 Panama Canal (detail)
Panamanian President Martín Torrijos presided at an official sneak preview ceremony this morning during which he cast a ceremonial bucket of intruder-deterring piranhas into the canal's massive new reservoir and proclaimed the day a "milestone in intercontinental water-based jet air transport".
"This is a great day for Panama, for sea-based air cargo, and for innovation in international cooperation," President Torrijos said. "With the reopening of the new super-canal we have forged a great synergy between sea and sky."
The widening of the Panama Canal, a project that was overwhelmingly approved by the citizens of Panama by national referendum in 2006 and financed by a consortium of discreet banks and shady private citizens, has been described as marking a "new millennium in shipping" one century after its original construction. The $5 billion project was co-managed by the Panama Canal Authority and EADS, the European Aeronautic and Deep-Sea Company that overseas Airbus S.A.S., manufacturers of the Airbus A380.
The broadened Panama Canal can now accommodate the extra-wide body of the Airbus A380 Superjumbo, the largest non-military passenger and cargo jet ever constructed, opening a new, life-saving sea freight market to the troubled air behemoth.
After a seven-year dry spell during which the Airbus A380 order book remained virtually empty because of cancellations sparked by multi-year production delays, mostly caused by wiring problems and excessively long lunch breaks, orders are now streaming in for the innovative seaborne aircraft.
"We see the redesigned Airbus A380 as a new, really unusual vessel for use in transcontinental passenger carriage and sea freight," Sheikh Ahmed bin Saeed Al-Maktoum, Chairman and Chief Executive of Emirates Airlines, said. Emirates Airlines has placed a new order for 40 seaborne Airbus A380s after initially canceling a similar order for the flying model in 2007 because the colors of the Superjumbo upholstery did not match Sheikh Ahmed bin Saeed Al-Maktoum's suits.
Sheikh Ahmed bin Saeed Al-Maktoum says "about half" of the Airbus A380s will be used for transcontinental shipping, with the other half to be equipped as "winged, floating palaces" for recreational use.
"They will be nice when I and some of my friends are on vacation," Sheikh Ahmed bin Saeed Al-Maktoum said. "The Business Class seats have very generous legroom."
The new orders represent a vindication of Airbus chief executive Louis Gallois's dramatic retooling strategy for the embattled aircraft project in 2007. Facing possible cancellation of the multi-billion dollar initiative due to order dropouts, Mr. Gallois made the then-controversial decision to "turn off the no smoking sign" and redefine the Airbus A380 as "a big, floating cigar".
"The retool was an inspiration," Mr. Gallois said. "It came to me during a late round of crash-recovery testing, during which we discovered the A380 could float like the dickens. That made me realize the A380 could be seen as a big, floating cigar with wings. Shorten the wings, add some pontoons, and what do you have? A jet-powered, wide-body Superboat that doesn't need nearly as many wires as something that flies. It was one of the most exciting moments of my life."
The only major obstacle to shifting environments for the A380 from sky to sea, Mr. Gallois said, was the problem of the Panama Canal.
"It was too narrow for the wings," Mr. Gallois said. "Unless the canal were widened, our passengers and cargo would have to navigate the A380 eight thousand extra miles around the Horn. Lucky, President Torrijos was already considering a widening initiative and was more than willing to build a consortium with EADS. The rest, as they say, is history."
Airbus A380s are expected to traverse the Panama Canal up to 1,000 times annually starting in 2015, a spokesman for the Panama Canal Authority said, carrying up to 500 tons of pre-packaged in-flight meals, tiny liquor bottles, and duty-free merchandise. The on-board passenger entertainment system is said to be "state of the art".
"Best of all," Mr. Gallois said, "the floating Airbus A380 is exempt from FAA and EU liquids bans for cabin baggage, which will be a great convenience to our passengers."
By Ion Zwitter, Avant News Editor