Washington, D.C., September 9, 2006 -- During an impromptu press availability in the White House Rose Garden today, President Bush announced he will, effective immediately, commence a hunger strike in pursuit of improved popularity ratings.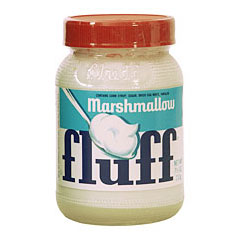 Marshmallow Fluff, a key ingredient in President Bush's favorite "Fluffergutter" sandwich, sacrificed for better poll numbers
Citing the vital importance to the incumbent party of improved presidential poll numbers prior to the upcoming mid-term elections in November, President Bush vowed to "stay on my hunger strike until such a time as the poll numbers get up to a more respectable number than as of where they are at right now."
An apparently testy President Bush, whose popularity ratings have hovered in the low thirties for several months, said he intended to remain on hunger strike until he was back to "at least forty, forty-five, for Christ's sake. Where the hell's my evangelicals?"
During his brief press appearance, President Bush referred several times with apparent admiration to the "stick-to-it-ness" displayed by deposed Iraqi dictator Saddam Hussein during his recent hunger strike for improved security for his rapidly dwindling collection of defense attorneys, and the apparent success of that effort.
"If a real mean guy like Saddam can get his way just by dropping a few extra pounds, then a real nice fella like me also sure can, too," President Bush said.
In pursuit of improved popularity ratings, President Bush said he will drop "a bunch of my favorites" from all presidential menus, including "Near beer, pretzels, and pâté de foie gras."
"Near beer and pretzels I can live without, anyway," the president said, "Trust me, they're a dangerous combination. But that pâté's going to be a bitch and a half. I generally smear it on Wonder Bread with a little Marshmallow Fluff when I get to feeling peckish nighttimes. Call it a Fluffergutter sandwich. Ask Laura, people, ask anyone."
First Lady Laura Bush, reached at an Austin, Texas nuclear waste disposal facility where she was inaugurating a playground for disadvantaged children built entirely of reprocessed uranium tubes, confirmed the president's assertions.
Several of the president's personal chefs in the White House, the president's Crawford estate and Air Force One also confirmed they had been instructed by the president to "leave all that good tasty stuff right out until I break forty."
"So from now on, American people, you better start saying 'Yes' when someone from Gallup or Pew or something calls you up and asks you if you approve of the job I'm doing as your commander," President Bush said. "Or else you're going to be seeing a president who's a lot skinnier and bitchier than the one who's talking at you right now, and make no mistake about it, it ain't going to be a pretty sight."
By Ion Zwitter, Avant News Editor